Allison Coggan and family relax
down on the farm in Great
Edstone, North Yorkshire.
____________________________________________________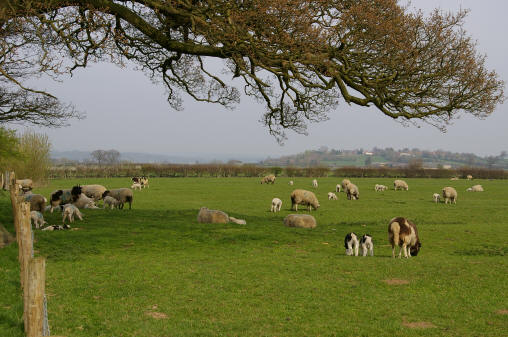 Country scene: The view from Colwdyke Farm towards Edstone, North Yorkshire.
One of the first things about living in Yorkshire is you don't have to travel far to experience a different landscape. An hour in any direction takes you to more shopping heaven, beaches, or picturesque countryside.
As incomers, most places are new to us.
Our golden rule is always to go further than the circulation area of your local newspaper, so you know you're "away".
With a bank holiday weekend looming, we had no inclination to spend most of it stuck in traffic jams, so we decided on North Yorkshire.
Instead of trawling the Internet and paying over-inflated prices to a booking agent, we went straight to the horse's mouth.
A nice man called Les, at Pickering Tourist Office, came up with the ideal place. Hearing we had a five-year-old, he suggested Sunset Cottage on Cowldyke working farm, close to the village of Edstone, about seven miles from Pickering.
Within a second of owner Janet Benton opening the door to the cottage, we knew Les had found us a gem. Having an open-plan layout, this two-bedroom converted barn was the perfect rural escape.
With a roaring log fire at its centre-piece, the spotlessly clean cottage offered us every home comfort, with a few extras, like the en-suite bathrooms, thrown in for good measure. We saw the baa-ing of sheep as an added advantage.
Relaxation was the order of the weekend, so we didn't venture far. It was hard to tear ourselves away from the cosy cottage and the romance of a log fire. Still, we popped our heads through the door of the barn to stroke the newborn lambs, watching as Mrs. Benton gave milk to ones needing a helping hand. Buffy, a very tame cockerel, came to greet us every day, looking for tit bits.
We went for strolls through fields, exploring the riverbank and admiring the glorious, unspoiled landscape before heading back to the cottage. With the towns of Pickering and Kirkbymoorside just short drives away, we had the chance to eat out but chose to stay in. It was snowing and there was the fire, you see.
They were lazy days, the kind of days to appreciate being a family. We had read, played, sang and watched television. At one point, anyone sneaking a peak in the window would have seen all three Cogs fast asleep and cuddled up in front of the fire.
After three days, three very chilled-out people. Mission accomplished.